Cities
Introducing Iran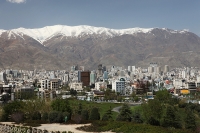 Tehran in April © ninara
Iran is brimming with over 5,000 years of history, with old ruins, museums, and magnificent mosques. It is an ideal destination for culture seekers and offers visits to some of the world's most incredible ancient wonders. As a former part of the Persian Empire, it's a centre of early civilisation.
Originally called Persia, Iran was one of the first countries to be occupied by the early Islamic armies that emerged from Arabia in the seventh century and thus, it is also a centre for early Islamic history and culture.
Although tourism is on the rise, some areas are still not considered to be safe. These include the country's borders with Afghanistan, Iraq, and Pakistan, as well as the province of Sistan-Baluchistan. Additional unsafe areas are the cities of Bam and Jask, as well as the areas east of them.
However, the Iranian tourism industry is growing outside of these regions, especially since the British Foreign Office has lifted its warning against tourist travel and has re-established an embassy in Iran.
This culturally-rich nation has something to offer everyone, with plenty of sightseeing choices, wonderful shopping, and exciting cuisine. For the more adventurous, Iran offers desert trekking, rock climbing, and a few ski resorts all at affordable prices.
The mountains bordering the Caspian Sea are covered in deciduous forest, and the brown forest soils found along the coasts of the Caspian Sea and the Persian Gulf are used extensively for farming, making for a richly diverse landscape. In addition, business travel is increasingly common and the country is extremely rich in mineral resources, especially petroleum and natural gas.
Become our Iran Travel Expert
We are looking for contributors for our Iran travel guide. If you are a local, a regular traveller to Iran or a travel professional with time to contribute and answer occasional forum questions, please contact us.
Intrepid Travel is one of the world's leading suppliers of small group adventures focused on getting off the beaten track and having real life experiences in Iran.
ADVERTISEMENT
---