Cities

hide Cities
Regions

show more Regions
Ski Resorts

---

---
Ports of Call

---

---

---
Rome (Civitavecchia) Port of Call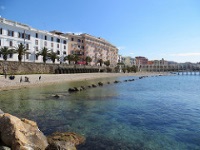 Civitavecchia © Jorge Brazil
Italy's capital is a living museum and a popular destination for cruises in the Mediterranean region. It is also one of Europe's top cruise destinations. Rome is a city filled with awe-inspiring architecture, gorgeous artwork and ancient sites; as well as trendy cafes, modern buildings and picturesque family residences.
Popular attractions include the Sistine Chapel and St Peter's Basilica in the Vatican City. Other popular destinations in and around the city include The Colosseum, The Pantheon and the Roman Forum as well as many others.
Civitavecchia is Rome's commercial port and gives passengers access to the Eternal City. The port is located about two hours from central Rome. Trains are available to take passengers between the port and Rome's city centre.
---
Contact
Tourist Board of Rome
Tel: +39 060608
www.turismoroma.it
Transport
Most cruise passengers are generally transported by shuttle to downtown Civitavecchia; from there, passengers tend to make their own way into Rome central. However, some cruises offer a Rome tour as part of the package; it is best to check these details with your cruise operator. By taxi or bus the drive to Rome takes between one and a half hours and two hours depending upon the levels of traffic congestion. Getting to Rome by train is a much better option, as the trip is only one hour and 15 minutes. Trains to Termini Station in Rome leave Civitavecchia roughly every half hour. Once in Rome it is easy to walk to many of the attractions. Buses, trams, trains and the metro are cheap and connect various parts of the city, generally running from 5am until midnight. A great way to see all the major attractions in the city is to catch the 110 Open, which is a tour bus that runs from Termini Station Square every 20 minutes.
Attractions
The Sistine Chapel and Vatican Museums are some of Rome's most popular attractions. While in the Vatican City visiting St Peter's Basilica is a must. The ancient Colloseum, Pantheon and Roman Forum are definitely not to be missed, while the bohemian feel of the Trastevere neighbourhood makes it the perfect place to stroll around the cobblestoned streets before stopping at one of the many cafes for a cup of coffee or brief snack. Capitoline Hill is the original capital of this magnificent city, and Piazza di Spagna and the Spanish Steps offer up some picture-perfect moments. A trip to the spectacular Trevi Fountain built by Pope Clement XII is the perfect way to end your day in Rome, and tossing a coin into it's waters is believed to guarantee a return trip to this magnificent city.
Restaurants
Ai Tre Scalini is popular for gourmands and tourists alike. It's also convenient for those visiting the Colosseum.
Alberto Ciarla is a great café to relax in and watch the world go by as you take in the beautiful neighbourhood.
Best Dish
Rome's specialties generally involve artichokes in one form or another, whether simmered in olive oil with herbs and spices or deep-fried. Pasta is quintessentially Italian and whichever you choose you'll be in for a treat.
Shopping
Rome is a great shopping destination whether you're after couture goods or simple crafts. The markets in Central Rome operate from Monday to Saturday and are great for souvenirs, crafts and keepsakes. Piazza San Silvestro has a selection of exquisite jewellery, while Piazza di Spagna is home to the majority of the city's boutique stores such as Fendi, Gucci and Prada.
Best Buy
Leather handbags, shoes and couture wear as well as religious icons from the Vatican City.
Excursions
Visit St Peter's Basilica and the Sistine Chapel in the Vatican City.
Stand in awe beside the Colloseum.
See the ancient Roman Forum as well as Capitoline Hill, the country's original capital.
Climb the Spanish Steps and take pictures on Piazza di Spagna.
Ensure a return trip to Rome by throwing a coin into Pope Clement XII's magnificient Trevi Fountain.
Become our Italy Travel Expert
We are looking for contributors for our Italy travel guide. If you are a local, a regular traveller to Italy or a travel professional with time to contribute and answer occasional forum questions, please contact us.