Regions
Ski Resorts

---

---

---
Tokyo Port of Call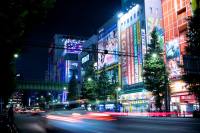 Tokyo © Guwashi999
Japan's neon capital, Tokyo is constantly going at a frenetic pace. A sprawling metropolitan area with more than 35 million inhabitants, the personality of the city ranges from the electronic bells and whistles of Akihabara to the serene gardens and shrines of Chiyoda, and from the flea markets and temples of Asakusa to the fashion-forward young crowds of Shibuya.
While many cruise lines abandoned their Japanese ports of call following the earthquake and tsunami of early 2011, cruises to Tokyo are once again increasing in popularity, especially on routes with Nagasaki and several Chinese ports of call.
Cruise ships in Tokyo dock at the Kobe Port Terminal, which is within walking distance of downtown Tokyo and has a tourist information office.
---
Contact
Port of Tokyo:
Transport
The Port of Tokyo is divided in to two sections. Smaller ships are accomodated at the Harumi Terminal and larger ships dock at the Oi Terminal. The waterfront area where cruise liners enter and depart is within close reach of the city's biggest train and metro stations, such as Ueno station and Tokyo Central station, which offer convenient and fast options to get around (and out of) the city.
Attractions
There is so much to see and do in Tokyo that it's impossible to see everything, even on a long holiday. Tokyo attractions range from the ancient (Tokyo Imperial Palace, Yasukuni Shrine), to the futuristic (Akihabara, Shibuya). All the parks turn pink for roughly two weeks out of the year when the cherry blossoms flower, but Tokyo is bursting with life and colour all year round.
Restaurants
Sushidai - English-friendly sushi restaurant
Ramen Tenjinshita Daiki - cheap and cheerful noodle shop
Les Saisons - excellent French cuisine in a romantic setting
Best Dish
Sushi
Shopping
Tokyo is an international shopping destination, filled with 20-storey shopping malls, entire streets of electronics stores, and eclectic markets and souvenir shops. Akihabara is the place to go for electronics, and its otaku area has colourful anime shops (and shoppers). The area around Shinjuku Station has a dense concentration of shops as well, selling just about everything.
Best Buy
Electronics or lacquerware
Excursions
Treat the kids to an outing at Tokyo Disneyland.
See the cherry blossoms at Chidorigafuchi.
Watch a Japanese baseball game at the Tokyo Dome.
Stroll the gardens of the Imperial Palace.
Learn about Japanese history at the Tokyo National Museum.
Our Travel Expert
Carey Finn Hails from Cape Town, lives in Tokyo (until further notice). A writer type with a love for languages, tea and cherry blossom trees, she headed to Japan to teach English "for a year or two", and for some reason is still there five years later. After spending some time in laid-back Osaka, she moved up to the crazy capital that is Tokyo, where she tries to hold onto as much of her sanity, and yen, as possible. You can find her cheapo travel advice at
www.tokyocheapo.com
, where she helps people make the most of the city on a shoestring budget.
>Read Carey's tips on Japan
>Ask Carey a question
---
Become our Japan Travel Expert
We are looking for contributors for our Japan travel guide. If you are a local, a regular traveller to Japan or a travel professional with time to contribute and answer occasional forum questions, please contact us.
---