Introducing Kosovo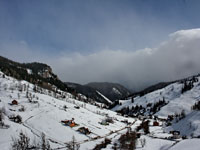 Brezovica © Shkumbin Saneja
Tranquil mountains surround Kosovo, whose picturesque towns and dramatic landscapes have escaped the notice of mainstream tourism. Ottoman mosques, striking forests, rolling green vineyards and sublime monasteries await those who visit the heart of the Balkans.
Regarding its history, Kosovo broke from neighbouring Serbia in 2008, following a long and bloody dispute. Many international states recognised its independence and helped welcome in a new dawn. Today, Serb minorities are located in the north, while the rest of the country is largely Muslim and Albanian speaking.
The Sar Mountains National Park is one of Kosovo's top attractions, where nature lovers can spot bears, lynxes, wolves and chamois. Ski enthusiasts can enjoy incredible slopes and favourable year-round conditions at Brezovica ski resort in the Sar Mountains.
Foodies should definitely tour the capital, Pristina, where the local fare carries a Turkish and Albanian influence. The flourishing city also has a number of coffee shops.
Become our Kosovo Travel Expert
We are looking for contributors for our Kosovo travel guide. If you are a local, a regular traveller to Kosovo or a travel professional with time to contribute and answer occasional forum questions, please contact us.