Introducing Kuwait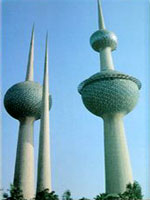 Kuwait Towers © Touristic Kuwait
Kuwait is one of the most liberal Islamic states in the Middle East, with a population predominately comprised of expats from Africa, the UAE and South Asia. Often overshadowed by the controversy surrounding neighbours Iran, Saudi Arabia and Iraq, as well as falling victim to attack by the Islamic State of Iraq and the Levant (ISIL), Kuwait has rebuilt itself in a region ravaged by numerous recent conflicts.
In 1990, Iraq claimed Kuwait as its 19th province, but a US led alliance expelled the Iraqis in a short war in 1991, and, subsequently Kuwait erected a barrier along its border to deter its threatening neighbour. Despite the turbulence of its history, Kuwait today is, once again, beginning to reflect its status as an oil-rich nation. Now, Kuwait attracts both business travellers and tourists from the west, particularly the US.
Those visiting Kuwait today are imbued with a lust for adventure that has nothing to do with adrenalin, but rather a yearning to explore and invest in this increasingly westernised Islamic state. In comparison to its more conservative neighbours, women comprise nearly 50 percent of the workforce in Kuwait, and the dual legal system, with some separate legal codes for Muslims and non-Muslims, is a good indication of the progressive nature of the country. Kuwait developed a reputation as a haven for the arts in the 20th Century and this legacy continues today; Kuwait has the oldest modern arts and literary movements in the region, as well as a famous talent for theatre.
The ruined capital, Kuwait City, has risen from the ashes of war to become a buzzing metropolis with gleaming high rises, numerous luxury hotels, and lush parks set along wide avenues. The city's major landmark is Kuwait Towers, visible from the harbour where oil tankers come and go, docking alongside hundreds of cargo ships and pleasure crafts. There is plenty to interest the traveller, not only in Kuwait City itself but also throughout Kuwait, from its arid desert plateau to the fertile coastal belt and its nine small offshore islands.
Unfortunately, the terrorist attack by ISIL in June 2015 has harmed the region's newly acquired reputation as a safe travel destination, but authorities maintain strict security measures in order to secure the safety of its citizens and guests.
Become our Kuwait Travel Expert
We are looking for contributors for our Kuwait travel guide. If you are a local, a regular traveller to Kuwait or a travel professional with time to contribute and answer occasional forum questions, please contact us.