Cities

hide Cities
Ports of Call

---

---

---

---

---

---

---

---
Puerto Costa Maya Port of Call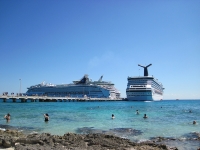 Costa Maya Port © Sean and Lauren
Once a bustling trading post for the Mayan civilization, most of the commerce happening today in Puerto Costa Maya comes from the city's status as a popular port of call on Caribbean cruises in Mexico. Mexico's newest port, Puerto Costa Maya is the first port on Mexico's Caribbean Coast to have been built exclusively for cruise ships and cruise holiday visitors. Situated on the Yucatan Peninsula near the fishing village of Majahual, Puerto Costa Maya is the fastest growing cruise port in the Caribbean and consists of three grand pavilions in the style of ancient Maya.
Known as a site for good beaches, lush subtropical jungles, and fascinating ancient ruins, Puerto Costa Maya is frequented by nearly a dozen popular cruise lines. The commercial, cultural and entertainment centre offers dining, shopping and recreational facilities, a swimming pool and swim-up bar, local performances in the amphitheatre, as well as art and craft galleries showcasing the region's local artists and their art - a lot to enjoy on holiday. The infrastructure has been carefully designed to meet the special needs of cruise ship passengers.
Beyond the pavilions, Costa Maya provides access to undeveloped areas of coastline, colourful reefs and shipwrecks for diving and snorkelling, and the chance to explore ancient Mayan sites. Puerto Costa Maya tour operators offer dune buggy tours, trips to Mayan sites like Kohunlich and Dzibanche, and kayak adventures along the coast. Free shuttles transport passengers regularly between the pier complex and their ships.
---
Contact
Costa Maya Tourism
Tel: +52 (983) 834 5666
Website: www.puertocostamaya.com
Transport
Although the dock area has many entertainment and shopping opportunities immediately available for cruise ship passengers, most of the popular attractions, including the Mayan ruins, are not within easy distance and transport will need to be arranged with tour operators.
Attractions
There is no real town at Puerto Costa Maya, so visitors shouldn't expect to see everyday life and culture in Mexico; rather, Puerto Costa Maya is the gateway to the ancient Mayan civilisation, and the amazing ruins of Chacchoben and Kohunlich are popular shore excursions. Visitors also have the opportunity to explore the area's sparkling beaches and dense jungles, or they can simply entertain themselves in the massive shopping and entertainment complexes in the dock area.
Restaurants
Tropicante Ameri-Mex Grill - American- and Mexican-style food on the beachfront.
Leaky Palapa - Good wine and high quality cuisine.
Best Dish
Fresh seafood ceviche
Shopping
Passengers alighting from cruise ships in Puerto Costa Maya are carried by shuttle to the Mayan-inspired port complex, which boasts 70,000 square feet (6,503sq m) of shops and a bazaar. Shoppers should beware of apparently silver jewellery, as much of it is actually only silver-plated. Bargaining is expected, and prices listed with the $ symbol are in Mexican pesos, while US Dollar prices are listed as US$ or USD.
Best Buy
Tequila
Excursions
Tour the Mayan ruins at Chacchoben and Kohunlich
Snorkel the coral reefs at Banco Chinchorro
Hire an ATV and drive to the town of Mahahual
Relax and soak up the sun at Uvero Beach
Take a zipline canopy tour of the Bacalar Lagoon
Become our Mexico Travel Expert
We are looking for contributors for our Mexico travel guide. If you are a local, a regular traveller to Mexico or a travel professional with time to contribute and answer occasional forum questions, please contact us.