Cities
Introducing Namibia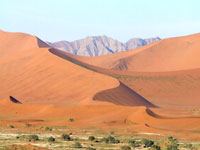 Sossusvlei dunes © Judith Duk
Namibia is a country of vast and astonishing landscapes. Home to the world's oldest desert, and one of the least densely populated countries on earth, there is plenty more than just rock and sand in South West Africa.
The Namib desert plays host to some truly incredible sights. The breath-taking ochre dunes of Sossusvlei are some of the highest in the world, the treacherous Skeleton coast lies to the north, populated with thousands of rusting shipwrecks, and perhaps most dramatic of all, Damaraland is home to the Spitzkoppe rock formations, bizarre petrified forests, and oasis-like valleys.
Cities such as Swakopmund and Luderitz stand as time warps, pretty relics of German colonial rule. Windhoek, the capital, is a modern oasis in the desert, offering shelter from the harsh African plains and a great start or end point to an African desert adventure.
Just north of the border with South Africa, the Fish River Canyon may well be one of Africa's greatest natural phenomenon, 100 miles (160km) long, up to 17 miles (27km) wide, and 1800 feet (550m) deep. Etosha National Park in the north is one of the world's great theaters for wildlife viewing. Waterholes around the iconic Etosha Pan are oases for the vast herds and big predators that roam the salt flats. Caprivi, on the tiny strip of land in the north east of the country, connects Namibia with Victoria Falls and the Chobe National Park in Botswana, and is a haven for wildlife in its own right.
Early Portuguese sailors sought to avoid what they called 'the sands of hell'. Today, visitors have discovered the vast potential of Namibia, a country rich in natural resources, with desert landscapes, sunshine, wildlife, and a stark barren beauty.
Our Travel Expert
Phoebe is a farm girl from the UK who, armed with a Geography degree, set off a few years ago to develop a career and discover the world. She first visited Namibia to assist with a research project, and fell immediately in love with this beautiful country. She now lives in Johannesburg and works as a safari guide in Namibia, Botswana and South Africa.
>Read Phoebe's tips on Namibia
>Ask Phoebe a question
---
Become our Namibia Travel Expert
We are looking for contributors for our Namibia travel guide. If you are a local, a regular traveller to Namibia or a travel professional with time to contribute and answer occasional forum questions, please contact us.
---
Africa Miracles specialises in tailor-made holidays to Namibia. Travel to the website and find information on Namibia and suggested itineraries.
ADVERTISEMENT
---
iExplore designs made-to-order, privately-guided safaris to Namibia and adventures in over 200 other world wonders. Come Back Different!
ADVERTISEMENT
---
Intrepid Travel, one of the world's leading suppliers of small group adventures focused on getting off the beaten track, interacting with the locals and having real life experiences throughout Namibia.
ADVERTISEMENT
---