Introducing Netherlands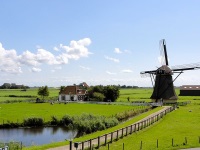 Friesland, Netherlands © Gouwenaar
Netherlands Travel Guide
The Netherlands is widely considered to be a fail-safe tourist destination: a vibrant, friendly country full of fascinating cultural sights and beautiful natural scenery, it seems impossible to have a bad time in the Netherlands. From the fun-loving capital of Amsterdam and the historically rich towns of Delft and Groningen, to the tulip and windmill-strewn countryside, a holiday in the Netherlands is guaranteed to delight all comers.
Most travel first to Amsterdam, which offers great tourist activities and interesting things to see. It is almost obligatory to take a tour of the city's famous canals, squeezing through tight waterways, passing under 17th-century bridges, and admiring the picturesque riverside houses. Amsterdam is also awash with world-famous art galleries, museums and concert halls. Amsterdam's famous Red Light District has been a mainstay of the global sex tourism industry for many years. The city is also renowned as a drug tourism destination, as its famously lenient attitude toward cannabis has seen the proliferation of 'coffeeshops'; however, laws introduced in early 2012 ban foreigners from these establishments throughout the Netherlands, and Amsterdam is now the only city which is still fighting to keep its 'coffeeshops' open to foreigners.
Tourists who venture outside of Amsterdam will also be richly rewarded. The 750-year-old city of Delft, famous for its distinctive blue and white pottery, boasts an interesting mix of youthful energy and historic sites; while Rotterdam is a gleaming city of high-rise buildings and truly innovative architecture including the famously distinctive cube houses.
Best time to visit the Netherlands
The Netherlands' climate is quite similar to that of teh United Kingdom, featuring temperate and changeable conditions all year round, with lots of rainfall. The best time to visit is either in spring (April and May), when the tulips are in bloom, or in summer (July and August), when, despite the hordes of tourists, the lovely long days allow you to pack more sightseeing and adventuring into your holiday. Read more on the Netherlands' Climate and Weather.
What to see in the Netherlands
- Admire the paintings of the Dutch Masters in Amsterdam's Rijksmuseum.
- Visit the Anne Frank Museum for a poignant and humanising reminder of the tragedy of the Nazi occupation of the Netherlands in the 1940s.
- See the small town of Kinderdijk's historic windmills: an iconic sight, sure to be one of your abiding memories of the Netherlands.
- The Van Gogh Museum houses more than 200 paintings and 500 drawings, and provides a fascinating insight into the troubled mind of the famous Dutch artist. Read more about Netherlands Attractions.
What to do in the Netherlands
- Take a tour through Amsterdam's famous canals for the perfect introduction to this historic city.
- Dress up nicely, and head to Amsterdam's Red Light District (De Wallen) for an unforgettable night on the town.
- Head to the Heineken Experience, and get a close-up look at how the Netherlands' favourite beer is brewed.
- Take a trip to fun, historic Delft, and go shopping at the Royal Delftware Factory for the iconic blue and white porcelain.
Getting to the Netherlands
There are plenty of direct cheap flights to the Netherlands available from a wide range of British and American destinations. Several European low-cost carriers offer cheap flights to Amsterdam's Schipol Airport. Get more information on Netherlands Airports.
Read
The Diary of Anne Frank by Anne Frank, The Girl with the Pearl Earring by Tracy Chevalier, Tulip Fever by Debroah Moggach, and The Black Tulip by Alexandre Dumas.
Listen
Golden Earring, Shocking Blue, BZN, and Frans Bauer.
Watch
The Girl with the Pearl Earring (2003), Simon (2004), Turks Fruit/Turkish Delight (1973), and De Tweeling/Twin Sisters (2002).
Drink
'White beer' (witbier) is popular, and is basically lager flavoured with a spice called gruit; while Dutch gin (jenever) is sweeter than English gin.
Eat
Bitterballen (breaded and deep-fried ragout served with mustard), pannenkoeken (pancakes, either sweet or savoury), and erwtensoep (a hearty green pea and smoked sausage soup).
What to buy
Blue and white ceramics from the Delft region, miniature windmills, and clogs (wooden shoes, known locally as klompen).
What to pack
When packing for the Netherlands, bear in mind that the weather is very changeable and subject to a lot of rainfall all year round. Make sure you pack a good variety of clothing to deal with varying temperatures, and that you have a good rain slicker to carry around with you in your day pack.
What's on in the Netherlands
The Holland Festival (June) is a month-long cultural celebration that encompasses all art forms, from pop music to high-minded drama, and features many international artists. The Cannabis Cup (November) is the marijuana world's equivalent of the World Cup, where judges and curious tourists from all over the world congregate to judge the world's best weed. More information on Netherlands Events.
Did you know?
- More than half of the surface area of the Netherlands is less than one metre above sea-level.
- Dutch people are the tallest in the world, with men averaging six feet (184cm) and women five feet six inches (170cm).
- The Netherlands has frequently topped lists as the world's greatest country for children to grow up in.
A final word
A famously progressive and liberal society, uniquely blessed with cultural sights and attractions, whether you're seeking high culture or just plain hedonistic fun, the Netherlands is a fantastic choice for an unforgettable European holiday.
Our Travel Expert
Kaleigh is from Denver, Colorado and has a degree in Art History. She is currently working as an au pair in the Netherlands and uses all her free time to explore, immersing herself as much as possible in Dutch culture. She is learning the language and enjoys writing about her experiences sampling local food and admiring Dutch art and architecture.
>Read Kaleigh's tips on Netherlands
>Ask Kaleigh a question
---
Become our Netherlands Travel Expert
We are looking for contributors for our Netherlands travel guide. If you are a local, a regular traveller to Netherlands or a travel professional with time to contribute and answer occasional forum questions, please contact us.
---