Introducing New Zealand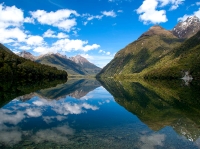 Lake Gunn, South Island © Jocelyn Kinghorn
New Zealand Travel Guide
Though the island nation is geographically small, the sweeping landscapes seem immense with their jagged mountain peaks, rolling hills, sparkling beaches, scenic fjords, raging rivers, and pristine lakes.
New Zealand is an adventurers paradise with opportunities to try activities such as scuba diving, hot air ballooning, rock climbing, and other extreme sports, especially in adrenaline-packed Queenstown, the 'extreme sport capital of the world'.
Yet the urban life and culture of New Zealand is just as fascinating, with the traditions of both Maori warriors and British settlers playing a part in everyday life. Major cities such as Auckland, Christchurch and Wellington have excellent restaurants and nightlife to entertain the most determined partiers, along with an array of fascinating museums and cultural attractions.
New Zealand seems to be located at the end of the world, and the long flight is off-putting for many travellers. However, the rich rewards of a holiday spent in the 'land of the long white cloud' are immeasurable.
Best time to visit New Zealand
The weather in New Zealand is fairly temperate all year round, though the south of the country gets cold in the winter. The western sides of the islands tend to be very rainy, while the eastern parts are shielded from ocean winds by the mountain ranges. Most locals and overseas tourists take a New Zealand holiday in December, January and February, crowding most beach destinations. The best time to visit New Zealand is in spring (September to November) and autumn (March to May) when the temperatures are moderate.
Read more on New Zealand's Climate and Weather.
What to see in New Zealand
- Take a tour of film sites from The Lord of the Rings.
- See the huge collection of Maori artefacts at the Auckland Museum.
- Watch the sun set from a yacht in the Hauraki Gulf Islands.
- Take a scenic ride in the Christchurch Gondola.
Read more about New Zealand Attractions.
What to do in New Zealand
- Go kayaking in Milford Sound.
- Try extreme sports like bungy jumping, white-water rafting and paragliding in Queenstown.
- Go hiking on the Fox and Franz Josef Glaciers.
- Scuba dive in the coves of the Bay of Islands.
Read more about New Zealand Activities.
Getting to New Zealand
Direct flights to New Zealand are impossible to find from the UK or the US, but connecting flights with stopovers in Bangkok, Singapore or Dubai are common from the UK; US flights to New Zealand usually stop in Hawaii.
Get more information on New Zealand Airports.
Read
Once Were Warriors by Alan Duff.
Listen
E Ipo (Prince Tui Teko) and Settle Down (Kimbra).
Watch
Whale Rider (2002) and Eagle vs Shark (2007).
Drink
New Zealand wine.
Eat
Hāngi (meat cooked over heated rocks).
What to buy
Maori arts and crafts, carved jade and greenstone.
What to pack
Comfortable hiking boots; New Zealand's terrain can be challenging.
What's on in New Zealand
The Pasifika Festival celebrates Polynesian art and culture each spring. Some of the best comedians in the world gather each year in Auckland for the NZ Comedy Festival around the end of March.
Did you know?
- Wellington is the most southerly national capital in the world.
- To become a New Zealand citizen, an oath of loyalty must be sworn to Queen Elizabeth.
A final word
New Zealand's rustic blend of Western and Polynesian culture combines with its stunning scenery to attract travellers to the end of the world.
Become our New Zealand Travel Expert
We are looking for contributors for our New Zealand travel guide. If you are a local, a regular traveller to New Zealand or a travel professional with time to contribute and answer occasional forum questions, please contact us.