Introducing Norway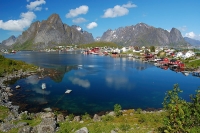 Reine, Norway © Petr Smerkl, Wikipedia
Norway Travel Guide
Norway is home to some of the most dramatically beautiful natural landscapes in the world, with soaring, snow-capped mountains and glacier-carved fjords, not to mention the icy allure of the Arctic Circle and the breathtaking spectacle of the Northern Lights.
All this natural splendour is popularly enjoyed through adventure-tourism activities like hiking, white water rafting, skiing, or even dog-sledding. However, those who want to experience the massive glaciers, fairytale forests, fjords, and rugged coastline without exerting themselves can enjoy some of the most scenic cruises and bus and train routes in Europe.
All this beauty is complemented by the intriguing heritage of the Vikings and nomadic Sami people of the north, as well as the friendly sophistication of the modern cities and quaint charm of small fishing villages.
Oslo is a cosmopolitan, attractive city boasting worthy museums, galleries, and a fun nightlife, and the historic port city of Bergen, gateway to the fjords, is another popular destination. Those wanting the Arctic experience should head to Tromso, another very picturesque city.
Although Norway is an undeniably expensive travel destination, it is a richly rewarding one, bursting with once-in-a-lifetime sights and experiences.
Best time to visit Norway
June and July is often considered the best time to visit Norway for warm weather and thundering waterfalls, while the days are especially long with sunlight until nearly 10pm. Keep in mind that crowds are at their peak though.
March is the best time to go skiing in Norway, and May and September offer nice weather and slightly smaller crowds. The Northern Lights are famously elusive and unpredictable, but there is a possibility of seeing them any time between late September and March. Read more on Norway's Climate and Weather.
What to see in Norway
-Visit the stunning Arctic Cathedral up north.
-Picnic in Vigeland Park and take in the more than 200 sculptures displayed there.
-Take a walk in Bryggen with its 14th-century wooden houses, now a UNESCO World Heritage Site.
-Go hiking in the hills around the former Olympic site of Lillehammer. Read more about Norway Attractions.
What to do in Norway
-Train to Tromso to see the Northern Lights in winter.
-Take a cruise in Norway's famous fjords to see spectacular waterfalls.
-Spend a night at the Snow Hotel in Kirkenes and mingle with other guests at the Snow Bar.
-Enjoy some of Europe's best whitewater rafting on rivers in Norway. Read more about Norway Activities.
Getting to Norway
There are regular direct flights to Norway from the UK, which take only two to three hours. Most flights to Norway land at Oslo International Airport (OSL), however there are also airports in Bergen and Stavanger. There are some direct flights to Oslo from the US, but there are many options with layovers in London or Amsterdam. Get more information on Norway Airports.
Read
The Snowman by Jo Nesbo, Sophie's World by Jostein Gaarder.
Watch
Asterix and the Vikings (2006), The Girl With the Dragon Tattoo (2011), Dancer in the Dark (2000).
Drink
Akvavit
Listen
Royksopp and A-ha
What to buy
Hand-knitted woolen sweaters and socks, and silver 'Viking-style' jewellery.
What to pack
Warm clothes, even for peak summer when it can still get chilly.
What's on in Norway
Many of the festivals and events occur in summer, like the Bukta-Tromsø Open-Air Festival in July, and the Norwegian Wood Festival in June, which both make the most of the long days and good weather with live music at outdoor venues. For a flurry of patriotism and traditional dress visit during Norway's Independence Day, in May. More information on Norway Events.
Did you know?
-Wine and liquor can only be bought from special outlets called Vinmonopolet in Norway.
-Whale hunting is a traditional Norwegian pastime.
-Norway has some of the world's highest petrol prices, despite being one of the world's biggest oil exporters.
A final word
With its breathtaking fjords, popular ski resorts, and quaint historical cities, a holiday in Norway is fascinating at any time of year.
Become our Norway Travel Expert
We are looking for contributors for our Norway travel guide. If you are a local, a regular traveller to Norway or a travel professional with time to contribute and answer occasional forum questions, please contact us.