Resorts

---

---

---

---

---

show more Resorts
Ports of Call

---
Port of Lisbon Port of Call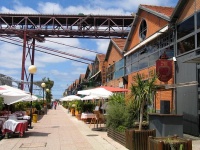 Alcantara Dock © OsvaldoGago
Lisbon attracts visitors throughout the year to revel in its warm weather, interesting sightseeing and diverse cultures. Over 250,000 cruise passengers pass through Lisbon each year and this is the departure port for many European cruise itineraries. Popular attractions for cruise passengers include the Lisbon Oceanarium and the Maritime Museum, as well as the final resting place of Vasco de Gama, the Jerónimos Monastery.
Lisbon's shops and restaurants are also worth exploring, offering an array of exotic tastes and treasures. The port is located on the Tagus estuary in downtown Lisbon, and is a well established cruise destination. There are three cruise terminals at the Port of Lisbon offering tourist information, vending machines, craft shops and public telephones.
---
Contact
Turismo de Lisboa - Visitors & Convention Bureau
15 Rua do Arsenal
Tel: +351 210 312 700
www.visitlisboa.com
Transport
The Port of Lisbon is located close to the city centre and there are buses, taxis and trains available. Outside the Rocha Conde de Óbidos and Santa Apolónia terminals, there are buses and taxis going into the city. The Alcântara terminal offers the same, and the Cascais-Cais do Sodré train line is also nearby. Many city attractions are within easy walking distance of the port, although the Old town is 4 miles away.
Attractions
Cruise passengers visiting Lisbon will find there are many things to see and do in the city. The Lisbon Oceanarium, rated among the best in the world, and the Maritime Museum are both popular attractions. Castelo de São Jorge is regarded as the cradle of Lisbon and provides panoramic views of the River Tagus and the medieval Alfama district. The Jerónimos Monastery is the final resting place of Vasco de Gama, another historical sightseeing must for visitors to Lisbon. A Lisboa Card ensures cruise passengers discounted admission to most attractions and free access to public transport. These cards are valid for 24 hours and available from tourist offices throughout the city.
Restaurants
Espalha Brasas is a favourite for fresh seafood and local fare.
Alcântara Café is a trendy, stylish restaurant offering modern, spicy cuisine.
Café de Sao Bento serves traditional Portuguese steak in a cosy adult atmosphere.
Best Dish
The best dish in Lisbon must be the sardinhas assadas, otherwise known as charcoal-grilled sardines.
Shopping
While there are vending machines and craft shops in the port terminals, the best shopping in Lisbon is done at the Centro Colombo and the Amoreiras Shopping Centre. The Pombaline Baixa, an historic quarter, and the Feira da Ladra market, operating on Tuesdays and Saturdays, are also popular shopping destinations. The Lisboa Shopping Card, available from tourist offices, provides discounts at more than 200 outlets.
Best Buy
Visitors should purchase Portuguese port wine which is sold at Napoleão in Baixa.
Excursions
Visit Fatima in the valley of Cova da Iria, site of the Virgin Mary's alleged appearance in 1917.
Explore Setúbal, one of Portugal's oldest cities, famous for its delicious muscadel wine.
Relax on the 'Sunny Coast' of Estoril, which inspired Ian Fleming's Casino Royale.
Enjoy the pretty town of Óbidos, given by Portuguese kings to their wives as a token of love
In the town of Évora, brave the Saint Francis Church's Chapel of Bones.
Our Travel Expert
Steve Masters first visited Portugal in 1989 and, later, lived in Porto for several years before returning to the UK. He speaks the language and is well versed in the culture of Portugal. He currently works on behalf of Rocha Brava, a holiday resort located in the Algarve.
>Read Steve's tips on Portugal
>Ask Steve a question
---
Become our Portugal Travel Expert
We are looking for contributors for our Portugal travel guide. If you are a local, a regular traveller to Portugal or a travel professional with time to contribute and answer occasional forum questions, please contact us.
---