Ports of Call

---
Introducing Puerto Rico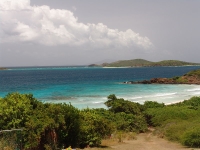 Beach at Culebra Island, Puerto Rico © Hmalaret
Puerto Rico is a Caribbean island with a difference. It has the pristine beaches, tropical climate, crystal-blue sea, and coconut palms characteristic of its counterparts. But along with its unmistakable Spanish colonial heritage, the island today is also part of the United States Commonwealth, meaning it has a first-world infrastructure mixed in with its traditional Latin American culture. Hamburgers are as endemic as island dishes like sancocho, and freeways connect shantytowns to strips of high-rise beachfront hotels.

The second thing that makes Puerto Rico different to other Caribbean holiday Meccas is that it remains largely undeveloped, except for the coastal region around its capital city, San Juan. The island is edged with some magnificent beaches that are mostly non-commercialised, and which are easily reached from the capital and its large resort hotels because the island is so small and compact.
Exploring Puerto Rico, both around its coast and throughout its interior, is a delight. Roads are excellent and there are numerous interesting attractions and unrivalled experiences, from one of the world's largest radio telescopes to the magical experience of swimming at night amongst tiny phosphorescent creatures on the offshore island of Vieques.
Puerto Rico, like many other Caribbean islands, was originally inhabited by Taino Indians until the arrival of Christopher Columbus and the instigation of Spanish rule and settlement. The island's capital and larger towns have preserved their Spanish heritage as 'old quarter' tourist attractions, full of charm and interest. Puerto Rico is a hybrid of old and new, which makes it an intriguing cultural destination rather than just another tropical island paradise.
Become our Puerto Rico Travel Expert
We are looking for contributors for our Puerto Rico travel guide. If you are a local, a regular traveller to Puerto Rico or a travel professional with time to contribute and answer occasional forum questions, please contact us.