Ports of Call

---
Old San Juan Port of Call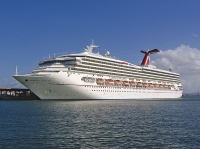 Old San Juan Port © Tomás Fano
San Juan is the most important cruise hub in the Caribbean, welcoming over a million cruise passengers yearly. The modern side of Puerto Rico's capital sits comfortably alongside its five centuries of history as one of the oldest cities in the western hemisphere.
Passengers delight in the magical Old Town, with its many outstanding restaurants and unique shops. New San Juan also has its charms, and the natural attractions on the city's periphery are also worth exploring.
Cruise ships dock in Old San Juan, although during busy periods overflow ships dock at Frontier Pier or Pan-American Pier, both around 15 minutes away from the Old City. The port facilities are outstanding, allowing for a seamless transition between cruise ship and city attractions. Over 28 cruise companies are based in San Juan, making it the largest home-base port in the world.
---
Contact
Old San Juan Tourism Office
Tel:+1 787 722 1709
Transport
The Old City can be accessed and explored on foot. When you tire, hop onto one of the free trolleys that run through the historic area. Outside the Old City, good transport options include plentiful taxis (fixed rates according to destination) and publicos (minibus taxis). Car hire agencies are plentiful but driving conditions challenging.
Attractions
The Old City is rich in historical buildings, narrow lanes and great restaurants. Check out La Fortaleza (The Fortress), a World Heritage Site and home to the city's governor since the 1500s. A surprise attraction worth seeing is the San Juan Cemetery; its beautiful setting and ornate grave stones are quite lovely. Don't miss the Ponce Art Museum, looking out for Leighton's famous "Flaming June". Paseo de la Princesa is a picturesque avenue linking the port and the old city gates. Another good walk is along beautiful San Juan beach.
Restaurants
Escambrón - a local classic off the beaten track; near hotel Normandie
Barrachina - inventor of the Piña Colada; great Puerto Rican food
Morton's - one of the best steakhouses in the world
Best Dish
Buttered mallorcas at La Bombanera
Shopping
San Juan is a bargain centre plus no tax is levied on purchases. Plazas Las Americas is the largest mall in the Caribbean with over three miles (4.5km) of shops. The Condado and Isla Verde neighbourhoods have good designer boutiques, while the Old Town has numerous family-run stores selling traditional crafts such as the collectible santos (carved religious idols).
Best Buy
Bacardi rum, Alta Rica coffee beans, mundillo hand-crafted lace
Excursions
Take a night trip to Vieques Bioluminescent Bay and see the luminescent sea
Go see Arecibo Observatory, the world's largest radar
Head down into Río Camuy Cave Park
Visit El Yunque tropical rainforest
Tee-off at Bahia Beach public golf course
Become our Puerto Rico Travel Expert
We are looking for contributors for our Puerto Rico travel guide. If you are a local, a regular traveller to Puerto Rico or a travel professional with time to contribute and answer occasional forum questions, please contact us.