Cities
Regions
Introducing Serbia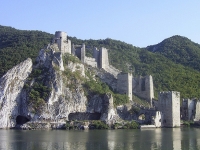 Golubac Fortress © Denis Barthel
Those who are looking for a unique holiday destination will find Serbia extremely welcoming. Formerly part of Yugoslavia, Serbia has been plagued by civil war and ethnic violence, and was once one of the more politically turbulent countries in Eastern Europe. Today, lively locals welcome visitors to their proud country, where historical and cultural influences have merged to create a unique Serbian charm.
The capital city of Belgrade, still scarred by the devastation of a long civil war, is lauded mainly for its vibrant nightlife. Although being one of Europe's most ancient capitals that has seen Roman, Byzantine and Ottoman empires rise and fall, it boasts plenty of interesting sites.
Serbia encompasses beautiful national parks, spa resorts, and some of the best skiing in Europe. The landscape of this verdant country includes alpine meadows, impenetrable forests, mountain lakes, glittering limestone caves, hot springs, and remote monasteries. The magnificent Djerdap National Park, stretching along the right bank of the Danube River between Golubackigrad and the Sip Dam, is definitely not to be missed, and the Djerdap Gorge is one of Europe's most spectacular geographic features.
During the winter months, those in the know head for the mountains along the Ibar Highway to the snow-blanketed peaks around the village of Kopaonik. Developing a reputation as one of Europe's cheapest and cosiest ski resorts, it is ideal for beginners and intermediates, and also features the Josanicka Banja spa. Once defined by its dark history, this Slavic enclave is waiting to be re-discovered and explored by adventurous and fun-loving travellers.
Become our Serbia Travel Expert
We are looking for contributors for our Serbia travel guide. If you are a local, a regular traveller to Serbia or a travel professional with time to contribute and answer occasional forum questions, please contact us.