Regions
Sri Lanka Maps
Sri Lanka Country Map
Free use of this map: please contact us using the link at the base of this page if you would like permission to use this map of Sri Lanka on your website. We allow free use for most sites, provided you include a link back to this page, and the map image remains hosted by us.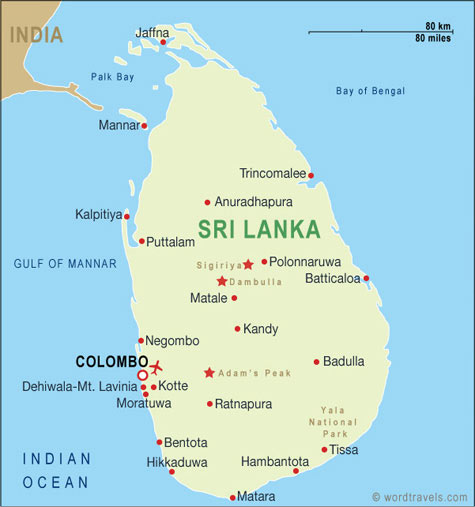 Our Travel Expert
After a 10-year career in the financial services I eventually bit the bullet and left the UK to embark on a three month journey. I travelled to South America, fulfilling some of my childhood dreams. I went to work overseas for the award-winning experts, Kuoni Travel, taking up positions in Switzerland, Egypt and the Maldives, where I worked on a total of 8 resorts before a couple of years of working back in the UK in the product division at Kuoni HQ.
Returning to the Maldives for a short time, my work took me back to Sri Lanka, where I have remained now for the last five years and regard it as my adopted home!
Working with clients, I love to impart my knowledge and lead people in their pursuit of discovery! There is so much to see and do in Sri Lanka, many clients return year after year to re-visit a special place or discover new secret hideaways.
>Read Yvonne's tips on Sri Lanka
>Ask Yvonne a question
---
Become our Sri Lanka Travel Expert
We are looking for contributors for our Sri Lanka travel guide. If you are a local, a regular traveller to Sri Lanka or a travel professional with time to contribute and answer occasional forum questions, please contact us.
---