Regions
Introducing Switzerland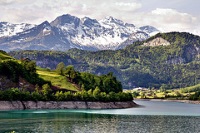 Swiss Alps © Artur Staszewski
Switzerland Travel Guide
Boasting one of the highest qualities of life in the world, two mountain ranges perfectly suited to skiing and other winter sports, a central plateau of rolling hills and beautiful lakes dotted with spa resorts, and an interesting mix of cultural regions, Switzerland's fame as a top European holiday destination is extremely well deserved.
For good reason, the majority of visitors seek out a ski holiday in Switzerland. The country's southern Alpine region is home to the highest pistes in Europe, and with reliable snow conditions, staggeringly beautiful scenery and top-class resorts, Switzerland is a natural choice for a dream winter sport vacation. Leading Swiss ski resorts include Davos (ideal for beginners), Gstaad, St Moritz (boasting the best views of all the resorts), Zermatt, and Verbier (the most popular ski resort in Europe, featuring outstanding accommodation, dining and shopping).
There is, however, more to Switzerland than skiing alone. Summer-time tourists will be overwhelmed by the beauty of the Bernese Oberland region, a land of distant snow-capped peaks, pristine lakes, edelweiss-strewn meadows and iconic wooden chalets. The world-famous resort of Interlaken is the most popular destination here, offering luxury accommodation, excellent hiking opportunities and easy access to one of Switzerland's most popular tourist activities, the cog railway that leads up to the plateau of Jungfrau Mountain.
This is, of course, to say nothing of Switzerland's cosmopolitan cities of Zurich, Geneva and Bern - elegant urban enclaves where rich history combines with modern development, progressive ideals, and wonderful dining and shopping opportunities; nor of its wealth of unforgettable tourist sites, which include the famously photogenic Château de Chillon and the Barbier-Mueller Museum.
Best time to visit Switzerland
The weather in Switzerland makes it an ideal destination throughout the year, and visitors trying to determine the best time to visit Switzerland are encouraged to first decide what it is they wish to see and do while in the country. The ski season lasts from the end of November to early April; while summer (July/August) is the high tourist season. Go in spring if you wish to experience the best of the countryside, while in autumn you may be able to find cheaper flights and better accommodation deals. Read more on Switzerland's Climate and Weather.
What to see in Switzerland
-Picturesque Lake Geneva is a must-visit for travellers in Switzerland.
-The stunning 13th-century Château de Chillon is a medieval castle that looks stolen straight from a fairytale.
-The historic city of Bern is a charming place filled with cobbled streets, ornate fountains and spired cathedrals.
-See the Lion of Luzern, which Mark Twain called 'the most mournful and moving piece of stone in the world'. Read more about Switzerland Attractions.
What to do in Switzerland
-Go to the Swiss Alps and experience some of the best winter sport action to be found anywhere in the world.
-Visit Interlaken, the king of Switzerland's summer resorts, and bask in the glorious sunshine, lake views and edelweiss fields.
-Take a trip on the cog railway to Jungfrau - and be greeted by awe-inspiring glacial fields and a 'palace' filled with ice sculptures.
-Take in some culture at one of Switzerland's celebrated museums, including the Barbier-Mueller Museum in Geneva, and the Museum of Design in Zurich. Read more about Switzerland Activities.
Getting to Switzerland
Cheap flights to Switzerland are easy to find from a number of airports in the US and UK. Direct flights to Geneva or Zurich are plentiful, while visitors from the UK can also find cheap flights to Bern and Basel. Get more information on Switzerland Airports.
Read
Dark Palace by Frank Moorhouse.
Watch
North Face (2008), On Her Majesty's Secret Service (1969), and Heidi's Song (1982).
Eat
Zurcher eintopf (a hot-pot dish famous in Zurich), rippli (pork ribs), fondue, rosti and sauerkraut; also try desserts like apfelküchlein (deep-fried apple cookies) and nusstorte (nut cake).
Drink
Rivella, a milk whey-based soft drink; and try some locally-produced Chasellas or Pinot Noir wine.
What to buy
Watches and clocks (Switzerland is the watch-making capital of the world), chocolate, cheese, cow bells, clothing embroidered with edelweiss flowers and - of course - Swiss army knives.
What to pack
If you're going for a ski holiday, it's probably best to take enough warm clothes along with you (as shopping for new ones could prove to be expensive); while if you're travelling in spring or summer, take a lightweight rain jacket along in your day-pack in case of light showers.
What's on in Switzerland
The Geneva Festival (August) is the highlight of Switzerland's summer event calendar, with musical performances, food fairs, parades and fireworks displays. The Montreux Jazz Festival (July) attracts a crowd of more than 200,000 every year, and is deservedly renowned as one the best jazz festivals in the world. Art Basel (June) is known as the 'Olympics of the art world', and features work from 300 leading galleries from around the world. More information on Switzerland Events.
Did you know?
-Switzerland has not been at war since 1515.
-Switzerland has the second-highest life expectancy in Europe (after Sweden).
-The Swiss flag is the only square-shaped flag flown at the United Nations.
A final word
A land of cosmopolitan cities that function with the precision of clockwork, and of extraordinarily beautiful natural surrounds, Switzerland is quite simply one of Europe's finest tourist destinations.
Become our Switzerland Travel Expert
We are looking for contributors for our Switzerland travel guide. If you are a local, a regular traveller to Switzerland or a travel professional with time to contribute and answer occasional forum questions, please contact us.