Introducing Tahiti And French Polynesia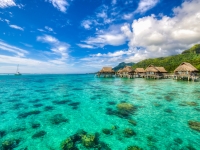 Lake Gunn, South Island © Jocelyn Kinghorn
Captivating Tahiti and 118 attendant islands and atolls, all radiant with iridescent green and turquoise, make up the country of French Polynesia, a French overseas territory that is spread across an area of the South Pacific that is as big as western Europe.
The earliest explorers thought they had found paradise on earth when they came across these picture-perfect islands, and today's travellers are no less entranced by the volcanic mountain peaks clothed in lush tropical vegetation and exotic flowering plants, and encased by coral reefs, warm waters, and white sand beaches. Add to this abundant beauty the warm hospitality of locals, a collection of world-class resorts, spas, fine restaurants, nightclubs, and vibrant markets, and one would imagine the islands would be overrun with exuberant vacationers.
It is surprising then, to discover that despite being a dream destination for many, French Polynesia remains gloriously uncrowded. The lack of tourist hordes is mainly the result of the remoteness of the islands, ensuring that travellers who do manage to visit find the French Polynesian islands friendlier, more authentic, and less crowded than many similar destinations. This means it is possible to tuck a tiare (Tahiti's national fragrant white flower) behind your ear, pack your swimsuit and pareu (sarong), and head off to find your own idyllic piece of Polynesian paradise.
One group of travellers who reliably come to French Polynesia in droves are surfers, for whom Tahiti is an established paradise. The famous French Polynesian surf spots are mostly not for the faint-hearted, with notorious breaks like Teahupoo treated as serious testing grounds for world-class surfers. However, despite its formidable reputation as a big wave surfing destination, French Polynesia does also offer fodder for beginners and surf can be found all year. It is also a gem of a travel destination for scuba divers and snorkellers.
Become our Tahiti And French Polynesia Travel Expert
We are looking for contributors for our Tahiti And French Polynesia travel guide. If you are a local, a regular traveller to Tahiti And French Polynesia or a travel professional with time to contribute and answer occasional forum questions, please contact us.