Cities
Introducing Taiwan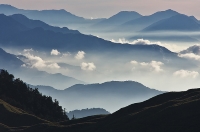 Taroko Gorge National Park © Mark Kao
Situated off the coast of mainland China, mountainous Taiwan buzzes with action. From thriving cities to its arresting natural beauty, the island offers travellers an enticing menu of attractions.
Chinese nationalists fled to Taiwan when the Communist Party seized control in 1949. Under their leader, Chiang Kai-Shek, they left the mainland with national treasures, gold, and foreign reserves. Their goal was to regroup and retake China. They did not and relations between the two parties remain tense. Still, Taiwan has thrived since the civil war ended.
Today, its cities are wonderfully layered, with traditional folk festivals and ancient temples existing alongside glass-fronted boutiques and bustling streets. Visitors relish the harmonious blend of old and new in one of Asia's great economic success stories.
For nature lovers, Taiwan's national parks have some fascinating wildlife species, many of which are rare or endangered. Popular outings include train trips through the Alishan mountain range or hiking in Taroko Gorge.
All told, visitors to Taiwan will enjoy the cream of Asian sophistication, and some of the region's finest landscapes.
Become our Taiwan Travel Expert
We are looking for contributors for our Taiwan travel guide. If you are a local, a regular traveller to Taiwan or a travel professional with time to contribute and answer occasional forum questions, please contact us.