Abu Dhabi Port of Call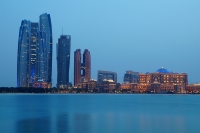 Abu Dhabi © Mathias Apitz
Abu Dhabi has been called the richest city in the world, and the sleek skyline beckons cruise ships like a siren. While not as popular with tourists as nearby Dubai, its slower pace and more conservative approach provides an authentic glimpse into Arab culture. Visits to landmarks such as the enormous Sheikh Zayed Grand Mosque and the Cultural Foundation can augment this experience, and complement a holiday spent lying on the beautiful white sand beaches.
Cruises to Abu Dhabi usually dock at Mina Zayed port, which is near to the city, and amenities such as restaurants, shops and currency exchanges.
---
Contact
Abu Dhabi Terminals
+971 2 6730 600
info@adterminals.ae
www.adterminals.ae
Transport
Abu Dhabi is designed for cars, and most visitors find it easiest to utilise the city's taxis, which are both plentiful and reasonably priced. There is a bus service and ride sharing apps such as Uber are another option. Walking is not an efficient way to see the city due to its spread-out design.
Attractions
Abu Dhabi has a number of impressive architectural sights, including the Sheikh Zayed Mosque, and the spectacular Corniche waterfront. While there aren't as many cultural or historical sites, visitors can see what Bedouin life was like in the Heritage Village museum, or relax in Khalifa Park, a beautiful green space with an aquarium, museum, train, playground, and more. Abu Dhabi also has beautiful white sand beaches that offer their own attractions in sunbathing and watersports.
Restaurants
Al Mina - Iranian cuisine and seafood in a casual harbourfront setting
BiCE - trendy Italian food with good views of the Gulf
Anand Vegetarian Restaurant - North Indian restaurant with a designated family section
Best Dish
A delicious and traditional Shawarma.
Shopping
Abu Dhabi is one of the most expensive cities in the world, so visitors will find no end of luxury goods for sale. Low import duties and no sales tax means there are bargains to be found in the city's gleaming shopping malls, bustling souks, and independent shops. The three-storey Abu Dhabi Mall near the port has over two hundred stores, and there are 17 more malls if shoppers can't find what they're after there. Popular souvenirs include perfume, spices, leather goods, and gold jewellery.
Best Buy
A treasured Arabian antique.
Excursions
Go camel trekking in the desert
Get a birds-eye view of the city with a helicopter tour
Visit the garden Oasis of Al Ain
Become our United Arab Emirates Travel Expert
We are looking for contributors for our United Arab Emirates travel guide. If you are a local, a regular traveller to United Arab Emirates or a travel professional with time to contribute and answer occasional forum questions, please contact us.