United States of America

---

---

---

---

---

---

---
Cities
Resorts

---
Missouri Travel Guide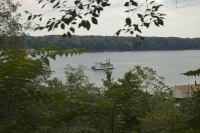 The Mississippi © Andrew Balet
Named after the Native Americans who inhabited the fertile lands around the Mississippi and Missouri tributaries, the state became part of the USA after a long colonial tussle between French and Spanish forces.
European settlers drove the original tribes out, founding the two fur trading centres of St Louis and Kansas City. The state's central location on the Mississippi River's north-south trade route and east-west railroad made it an important crossroads for trade and transport.
Both cities established themselves as major gateway to the western frontier during the 19th century. Today, Missouri is associated with historical figures like Mark Twain, the gun-slinging outlaw Jesse James, pioneers Lewis and Clark, and the former president Harry Truman.
Images representative of the state include its small river towns, the stockyards of Kansas City, and the jazz and blues clubs of St Louis. The waters of the great Mississippi River flow by, dotted with iconic paddle steamers.
St Louis is the dominant city, recognisable for its Gateway Arch and is the home of the blues. Kansas City is the only other significant metropolis, famous for its steaks and barbecues and its hearty jazz.
In contrast, the south of Missouri features the beautiful hillsides and lakes of the Ozark Mountains, providing great recreational areas and the conservative country-and-western tourist town of Branson.
Become our Missouri Travel Expert
We are looking for contributors for our Missouri travel guide. If you are a local, a regular traveller to Missouri or a travel professional with time to contribute and answer occasional forum questions, please contact us.