Cities
New South Wales Travel Guide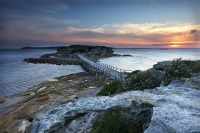 Bare Island, New South Wales © Gemma Stiles
New South Wales, which contains Australia's oldest and most vibrant major city, Sydney, is the country's premier tourist state. It has the highest population, attracts the most visitors and has a range of experiences to offer the tourist that is unrivalled by most countries, let alone states, in the world. Breath-taking beaches, World Heritage National Parks, a taste of the real Australian Outback, snow-capped mountains, lush farming country, Aboriginal culture, and dazzling city lights are all on offer in New South Wales.
The state was named by Captain James Cook when he first stepped ashore in Australia at what is now Sydney Harbour and claimed the country for the British in 1770. The epicentre of New South Wales is the huge, sunny, sexy and sophisticated city of Sydney, characterised by its white-sailed Opera House and Harbour Bridge. Beyond the slick city life though, New South Wales also offers the chance to escape to the Snowy or Blue Mountains, drive through the rolling wine farm country of the Hunter Valley, enjoy getaways to the historic villages of the southern highlands, or indulge in whale-watching, surfing and swimming at free-spirited coastal villages and towns.
Become our New South Wales Travel Expert
We are looking for contributors for our New South Wales travel guide. If you are a local, a regular traveller to New South Wales or a travel professional with time to contribute and answer occasional forum questions, please contact us.