United States of America

---

---

---

---

---

---

---
Cities
New York Travel Guide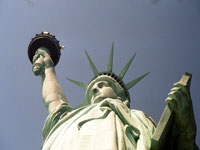 Lady Liberty © Rebecca Kennison
New York Travel Guide
New York is a fantasy destination for millions who dream of both living and making it big, feeding off the energy of its unique magic. People say everyone should visit New York at least once in their lives, and it's easy to see why.
The city teems with fascinating sights and attractions, from towering skyscrapers to humble hotdog carts on sidewalks. Supposedly, there's nothing you can't find in this towering urban jungle, affectionately known as the City of Dreams.
Known for high standards in food, nightlife, and shopping, it's also home to some of the most famous attractions on the planet: the Statue of Liberty and Ellis Island, the Empire State Building, the Brooklyn Bridge, and Central Park.
The Big Apple is also home to world-class museums like the Guggenheim and the Metropolitan Museum of Art, as well as famous performance venues like Madison Square Garden, Carnegie Hall, and Radio City Music Hall. And of course the multitude of theatres that light up Broadway each night.
Alternatively, the north and western parts of the state are as peaceful and remote as NYC is frantic and crowded. Visitors can enjoy the tranquillity of the Adirondacks and the Catskills at resorts like Lake Placid, Lake George, and Hudson Valley. New York has something for everyone to enjoy.
Best time to visit New York
New York is truly a year-round travel destination, but the climate does vary widely from season to season. There are hot, humid summers and cold winters. The best time to visit New York is in the autumn (September and October) or spring (April and May), when temperatures are moderate. Read more on New York's Climate and Weather.
What to see in New York
-Take in a Broadway musical, or go off-Broadway for something more avant garde.
-Visit the 9/11 Memorial at Ground Zero.
-See the lights of Times Square.
-Walk along the promenade at the Coney Island Funfair. Read more on New York Attractions.
What to do in New York
-Walk across the Brooklyn Bridge.
-Go ice skating at Rockefeller Plaza.
-Take a carriage ride around Central Park.
-Hike in the Adirondack Mountains.
-Get a great view of the city from the Staten Island Ferry.
Getting to New York
There are flights to New York from just about anywhere. A major international hub, there are plenty of direct flights to New York from London and other major UK cities. Flights to New York land in one of several major airports, including John F Kennedy International Airport (JFK), New York La Guardia Airport (LGA), and Newark Liberty International Airport (EWR). Flights to upstate New York land at Buffalo Niagara International Airport (BUF). Get more information on New York Airports.
Read
A Tree Grows in Brooklyn by Betty Smith, Breakfast at Tiffany's by Truman Capote, and Ragtime by EL Doctorow.
Watch
Annie Hall (1977), Sex and the City (2008), Rent (2005), and The Visitor (2008).
Drink
Cocktails like a Manhattan.
Eat
New York-style pizza, bagels, steak, and pretzels.
What to buy
I (heart) NY merchandise, Statue of Liberty memorabilia, or designer goods.
What to pack
Comfortable walking shoes, and stylish clothing for the evening.
What's on in New York
-Giant floats and balloons fill the streets at the Macy's Thanksgiving Day Parade.
-Times Square hosts the biggest party in the US every New Year's Eve.
-New York Fashion Week is the highlight of every fashion calendar.
Did you know?
-New York City has an estimated 4,000 street food vendors.
-More than 250 feature films are shot on location in New York City each year.
-The musicians who perform in the NYC Subway system go through a competitive audition process; some have also played at Carnegie Hall!
A final word
One of the biggest and best cities in the world, New York sets the standard for urban holidays.
Become our New York Travel Expert
We are looking for contributors for our New York travel guide. If you are a local, a regular traveller to New York or a travel professional with time to contribute and answer occasional forum questions, please contact us.