United States of America

---

---

---

---

---

---

---
Regions
South Dakota Travel Guide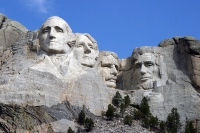 Mount Rushmore © Dean Franklin
South Dakota is sparsely populated and often overlooked as a holiday destination in the USA. Visitors won't find flashy attractions or nightlife. But instead, the state enjoys a hauntingly beautiful landscape of vast prairies, broken granite hills, and echoing caverns.
Attractions in South Dakota include the famous tyrannosaurus rex called Sue, unearthed in the bewitching Badlands. The iconic stone faces of Mount Rushmore are instantly recognisable while De Smet was influential in shaping the stories of author Laura Ingalls Wilder. The city of Deadwood is also the location of gunman Wild Bill Hickok's fatal poker game.
Long being the home of the Sioux nation, the inhabitants of this harsh land followed great buffalo herds across the plains. In the 1800s, settlers seeking riches flocked to South Dakota and skirmishes between the Native Americans and US soldiers quickly followed.
The infamous Wounded Knee Massacre was one of the last conflicts. It was here that US soldiers slaughtered a large group of Sioux, including women and children. Today, visitors can pay homage at a small memorial at the site.
The Sioux remain a large part of the population of South Dakota, their culture continuing to permeate and enrich the land. The Black Hills are a solitary range of mountains covered with pine trees, dramatically rising from the plains and considered sacred by the Sioux.
The rolling prairies, meandering rivers, and staggering peaks of South Dakota is a landscape naturally groomed for the classic American road trip. It makes for some of the most beautiful scenery in the country and is a must-see on any American journey.
Become our South Dakota Travel Expert
We are looking for contributors for our South Dakota travel guide. If you are a local, a regular traveller to South Dakota or a travel professional with time to contribute and answer occasional forum questions, please contact us.